---
Harvest is one of the busiest times of year for farmers. Trying to get the crop in before the weather turns, managing employees and rushing to get a myriad of tasks done can be daunting. One thing no farmer should have to deal with during this busy time is an under performing combine. Lugging up hills, slowing down the system, and in general costing the operation money. This does not have to be the situation for you this fall!
Each year, just after harvest, we take an influx of calls inquiring about adding horsepower to combines. Farmers tend to be detail orientated, and have a lot of questions before tuning any equipment. Which is totally understandable, combines are not exactly cheap and they are one of the most crucial components of a successful harvest.
A few questions come up in every conversation about tuning a combine. Below, I hope to provide answers to the most common questions about combine tuning.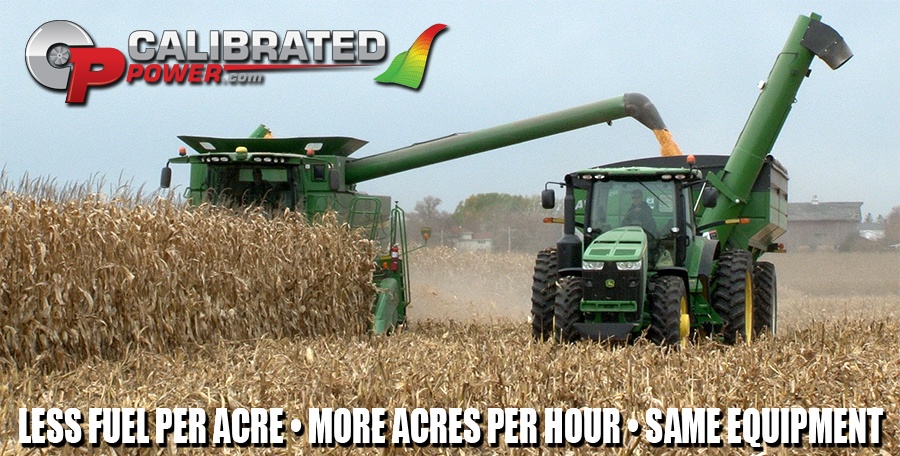 ---

Below you will find 5 reasons to tune your combine BEFORE harvest! but if you have questions about tractor tuning, please contact me right away (I even put a link at the bottom so you can book a meeting with me)!
Reason #1 INCREASE GROUND SPEED
I read a post on social media the other day that says; Only a farmer truly knows the difference between 5 MPH and 5.5 MPH. This can be true in many operations but especially with the combine. If your operation has the capacity, increasing ground speed can make a significant impact on profit. A tractor tuner may help with this.
Reason #2 USE LESS FUEL PER ACRE
Some of our customers have reported up to a 1/3 of a gallon per acre in fuel savings. For many farmers the power is a great, but the motivator is saving money! If you can shift up a gear and throttle back, studies have shown up to a 20% reduction in fuel consumption, the only catch being you probably will need the extra power to make this possible.
Reason #3 MAXIMIZE YOUR PROFITS THIS HARVEST
In farming, every penny counts! Especially when saving money on fuel consumption and time. Those savings go directly to your bottom line, making it easy to see why you would take advantage of tuning prior to harvest.
Reason #4 MAKE YOUR OPERATORS LIFE EASY
If your operator has to continually shift up and down in the field and has to keep a steady eye on the gauges, then tuning your combine may help. Many farmers have found that after adding tuning, the operator can shift up, throttle back and just cruise. The added power gives the combine everything it needs to pull itself through the field with ease.
Reason #5 TRACK YOUR FUEL USAGE AND GET A $250 REBATE
Calibrated Power is currently looking for farmers who care about saving of fuel consumption. Simply enter your basic contact information, download the Performance Tracker, and monitor fuel usage. For this program you will need to track the fuel you use while the combine or tractor are stock, and again once tuned.
GIVE ME A CALL (815-568-7920 ext 2122) OR CLICK THE LINK BELOW

---