---
Drop-In Duramax Turbo Options
In the old days, there was no such thing as a "drop-in" turbo. You pretty much had to buy a turbo that was designed for a different application and convert it to run on your Duramax. Meaning the requirements for installation included several custom fabricated pieces to make it work.
As technology in the diesel performance industry has advanced, our options for parts have expanded. No longer do we have to use semi turbo's and roal coal to make power. Now with the common rail injection system and variable vane turbo advancements there is a real need to find a turbo that makes more power than stock, while retaining all the benefits of a stock turbo.
Benefits of a stock turbo:
Quick Spooling
Clean installation
Reliable
Serviceable by any dealer or reputable shop
Requires no custom fabrication
However, they do lack peak power, and peak power matters! When looking for which upgraded unit to replace the stock turbo, we recommend matching the replacement as close as possible to the desired power level to minimize compromising drive-ability. Any extra capacity you buy in peak for performance will cost you low end response. Example: Looking to make 650rwhp? Buy a turbo that can just barely squeak out 650rwhp, do not buy something that's good for 850rwhp because it will drive poorly a light load.
---
So What Options Are Out There?
Good news, there are a lot of options! Too many to cover in depth here to be honest. We can however provide you resources for honest reviews and a few popular options. These options are geared toward users who are looking to work withing the limitations of their stock rods/pistons and fuel system which usually runs out of steam between 580-640rwhp depending on year and risk tolerance.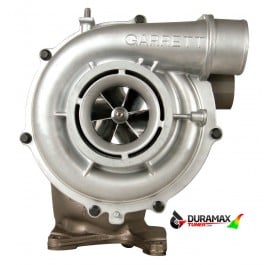 LB7 (2001-2004)
Stealth 64 LB7 by DuramaxTuner
LLY, LBZ, LMM (2004.5 - 2010)
Stealth 64 VVT by DuramaxTuner
LML (2011 - 2012)
LML Stealth 64 by DuramaxTuner
---

Drop-In Turbo Benefits
Quick Spooling
Clean Fit
Reliable
Makes 600+ RWHP
Distinct whistle
Stock appearing
Affordable
If you have specific questions about the turbo upgrade for your truck, feel free to book a meeting with me below. Or feel free to request more information about the Stealth Turbo Line!
---