---
The LLY Duramax is a great truck from the factory for there are 3 modifications every owner should make! The LLY was manufactured 2004.5 and 2005. There are a few 2006 models that are labeled as an LLY, however they have all of the LBZ upgrades from the factory, so for performance applications consider those an LBZ. An LLY was the first Duramax with the injectors outside of the heads, a variable vane turbo and a 50 state EGR.
---

However, they also have a restrictive mouthpiece in front of the turbo which can lead to reduced boost, fuel mileage, higher EGT's, increased lag, and overall it just needs to be replaced. This is the very first place to start. Either install a LBZ Induction Kit, which is the full factory intake from the filter to the turbo. This will eliminate the LLY mouth piece and works just fine. Or, my preference is to just install an S&B LLY Intake Elbow. This will remove just the problematic piece and retain your factory intake. The cost of each options is around $200, and they perform the same way. Next it is time for tuning. A standard box programmer reads your stock file out, modifies 10 – 12 parameters, such as rail pressure, timing, boost, and then locks to your truck when it flashes the tune in. EFILive tuning is custom tuning software that allows users to manipulate 150 – 200 parameters. This gives you a more complete tune that can be calibrated for any setup. There are many custom EFILive tuning companies out there to choose from. The only option I would consider is the SPADE by DuramaxTuner.com.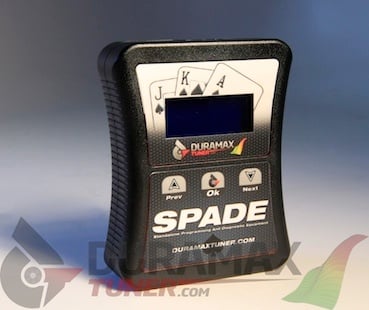 This will give you custom EFILive tuning on an easy to use hand help device and a DSP5 switch. A DSP5 switch is a small, 5 position, rotary dial switch that you install under the dash and wire into the ECM harness, giving you the ability to rotate between 5 tunes on the fly. Finally, throw a 4' Flo-Pro exhaust under the truck. This gives you the deep throaty sound that diesel owners love.
1: SPADE Jack - EFiLive tuning with DSP5 Switch
2: S&B Intake Elbow
3: Flo-Pro Exhaust
---
If you have an all stock LLY and want to do everything you can to it without building the transmission, DuramaxTuner.com has a bundle package called the DT400 Power Pack.
---