This has been years in the making for the engineers and development team over at ATS. They've put in the time and what you get out of it is a Cummins twin kit that truly gives your Ram a clean, powerful, stealthy ride. This compound kit is what your 2013+ Cummins needs for all aspects, whether that may be towing, daily driving, or that long distance family trip you've been looking forward to. Let's take a look at what this system has to offer.
Designed and engineered in-house gave ATS the ability to do what they like, giving your Cummins the ability to reach 650 RWHP while not giving up driveability, reliability, factory emissions equipment, or ride comfort. This twin kit delivers, giving amazing torque delivery at any RPM and amazing spool up. Despite affording your 2013-2018 Cummins 6.7 the prospect of 650 RWHP, it lowers soot accumulation. This means your truck goes into less frequent regen intervals. The compound system delivers mountains while eliminating smoke output and lowers your engine's EGTs meaning added reliability. It's got it all.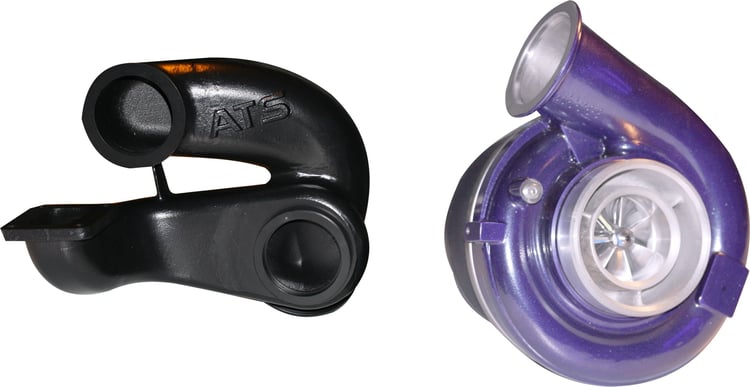 The Aurora Vortex 5000 Twin Kit comes with an OEM level finish and fit. This means you get an easy to install kit (give or take a long weekend or two) and a beautiful looking system that performs as well as it looks. It comes with cast iron mid-pipe with powder coated coldside piping. High quality fastener and clamps matching factory quality gives you less chance of boost leaks. Outside of it's looks, this kit was put to the test by the team at Calibrated Power Solutions. Thousands of miles were put on it with towing, daily driving, taking it down the drag strip, and driving in inclement weather. It performed like a beast.
If you're only looking to put this twin kit on and achieve the 520 RWHP, that's fine. Tune your Ram and go with this system. It will deliver around 1,000 lbs of torque. Towing will be a breeze and your engine will breathe easy, lowering EGTs and protecting your engine from detrimental heat. There is enough air to keep the engine cool indefinitely. If you're looking to reach it's potential 650 RWHP we recommend the following mods; transmission upgrade, 10mm CP3 High Pressure Pump, and 10 bar MAP sensor.
What this kit means to your 2013-2018 Cummins?
Amazing spool-up and torque delivery

650 RWHP peak power potential



Validated longer than factory regen intervals (lower soot accumulation

Feature Aurora 5000 turbo as primary turbo
The Aurora 5000 Vortex Twin Kit has lot to offer and if you have any questions or if there is anything you need help with, please click the button above and a twin kit expert can help answer any questions you may have.