---
This LB7 Dually Killing It
I had a customer come into the shop with a pair of up-pipes and a down-pipe he wanted installed on his LB7 dually. I told him that it would not be a problem and to come by the shop early one morning. I happened to be near the front door when the the truck pulled in and my jaw about dropped when this thing came barreling down the road and whipped into the parking lot.
After a brief discussion with the truck owner I found out this unit had just 89k miles on it and everything was original. This gun metal gray paint had no fading or scratches and free of any noticeable chips or short comings. The interior had no cracks in the plastics, the charcoal gray interior was mint, even the white paint on each button could still be seen clearly. I think what really set it off was the 22.5" semi tires wrapped with 37" rubber. Other basics had been done as well, all the trim was tastefully done, headlights and head unit upgraded and so on. Looking back, each individual piece was fairly standard and readily available. However, when put together on this 4 door dually; it just worked perfect!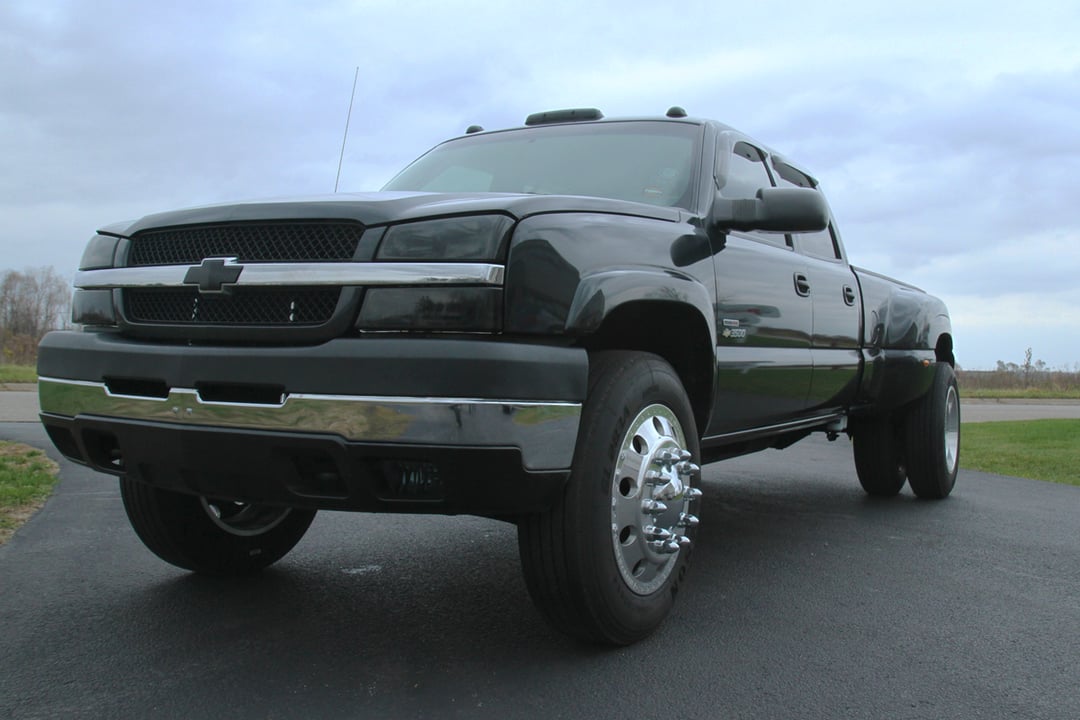 After our previous conversation of the truck, I found myself getting as excited about the potential for how cool this thing could be. However, as any truck build story goes we ran into a few small hurdles that we needed solutions for. Bolts broke while removing the up-pipes and the turbo had to come out. It left us with an opportunity to replace the stock IHI with our Stealth 64 LB7 turbo. Now we knew that because of how the owner used his truck that the transmission was going to need attention down the road . . . . shortly down the road. It ended up being very shortly down the road. Once the truck had a DT750 built transmission we decided to install a few supporting mods.
DuramaxTuner.com Jack DSP5 Tuning
Lift Pump
Traction Bars
After the truck returned to it's daily life as a highway driver/midnight tollway race truck, it was not too long until we had another obstacle to overcome....
---
Motor Build Time!

I got a call letting me know the truck would not crank this morning. Upon a little probing of what happened I discovered it did indeed win last nights street race, but it also blew white smoke and made terrible noises on the way home. Once the truck arrived in the shop we determined the motor had to come out. I am still not sure if it was the thrill of the last nights win, or just the standard reasoning of someone who drives 100 MPH on the highway each day, but either way a full motor build was about to be underway. We settled on a plan that made sense and had one very clear, above-all-else, objective: Over build the motor for reliability! Yes we wanted to see this monster break 500 RWHP but we also know how it is going to be driven, and it needs to hold up.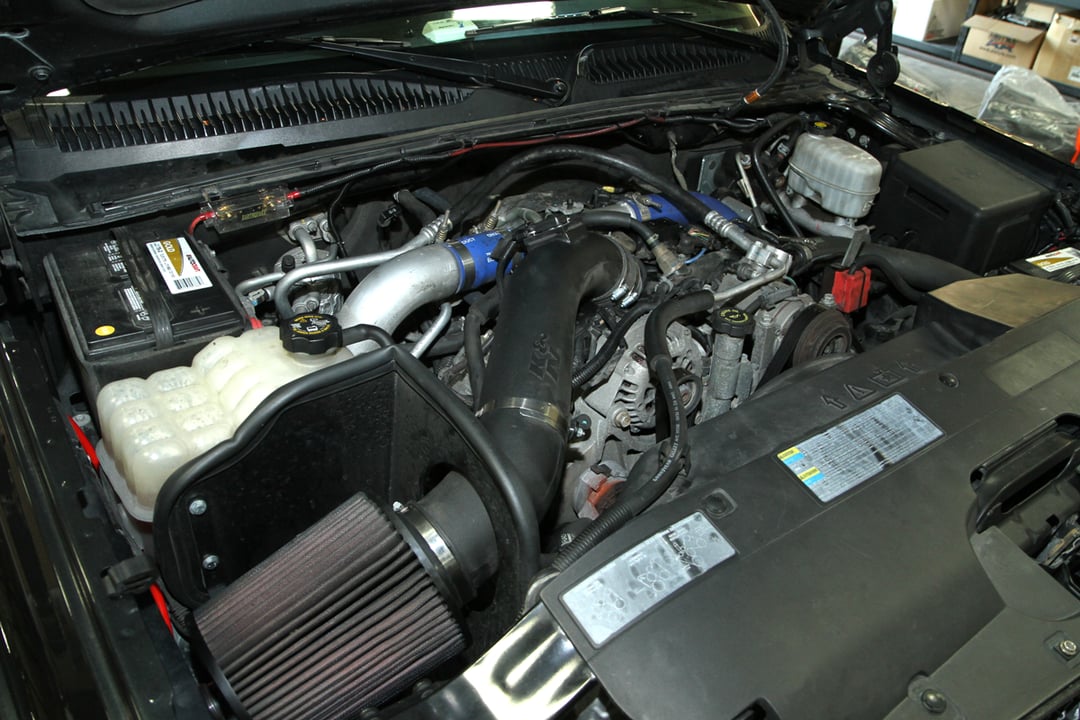 So we had a Stealth 64 LB7 on a built motor, with stock injectors (new set of reman), stock Cp3 (new), and a DT750 built transmission to put it on the ground. I had the pleasure of putting some miles on the truck after the build was finished and before the truck was delivered back to it's owner. Now, I drive a LOT of trucks in my job. Everything from brand new Denali's and Black Editions, to old and roached out LB7's and 24v's. Personally I have owned everything from tiny import cars to huge trucks to luxury rides. Nothing drives like this LB7 Dually!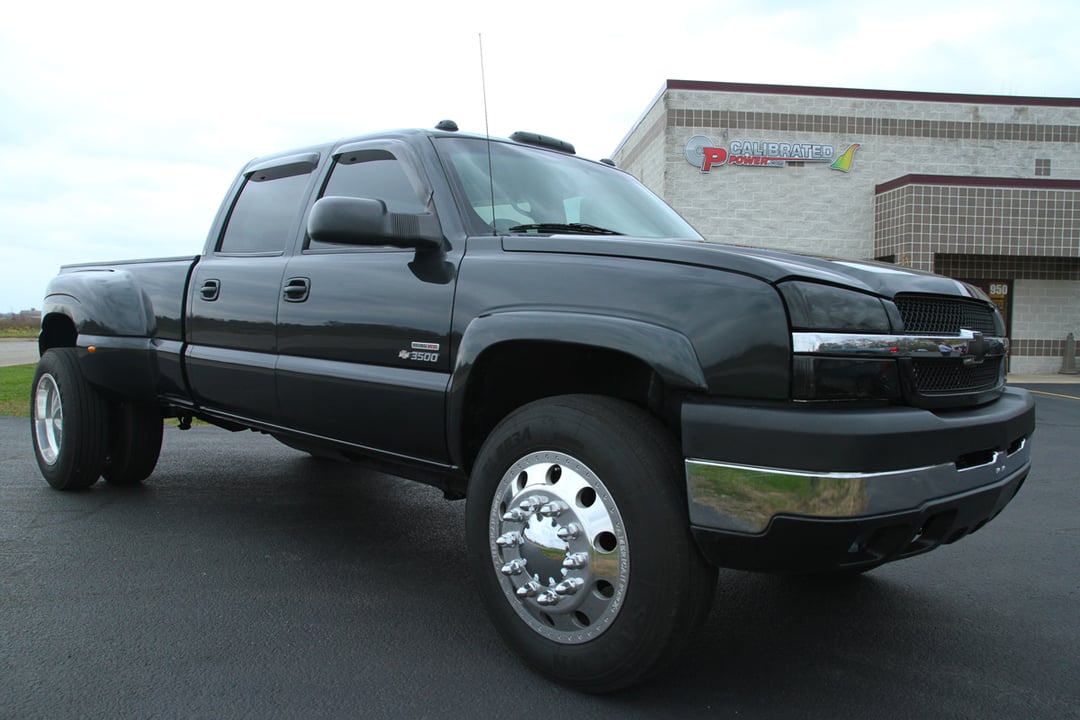 It is so smooth on the power and it just seems to run away from anything in the rear view mirror. Truly this is the most stealth truck I have had the pleasure of driving. I knew after just 1 time above 100 MPH that the owner was going to love this! With the windows up and A/C on it is almost surreal. You would expect the whole rig to feel sketchy, like a misplaced twig could throw you into the ditch. However this truck seemed like it was glued firmly to the pavement and if you were not looking out the window it felt like you were just cruising at normal speeds.
Now that the truck is back home it still has not lost a roll race to another dually. It is driven almost everyday, at too high of speeds, and even has made a trip or two to the local quarter mile track. Soon we even hope to see it be used for it's original purpose, towing a race car that is a few years in the making.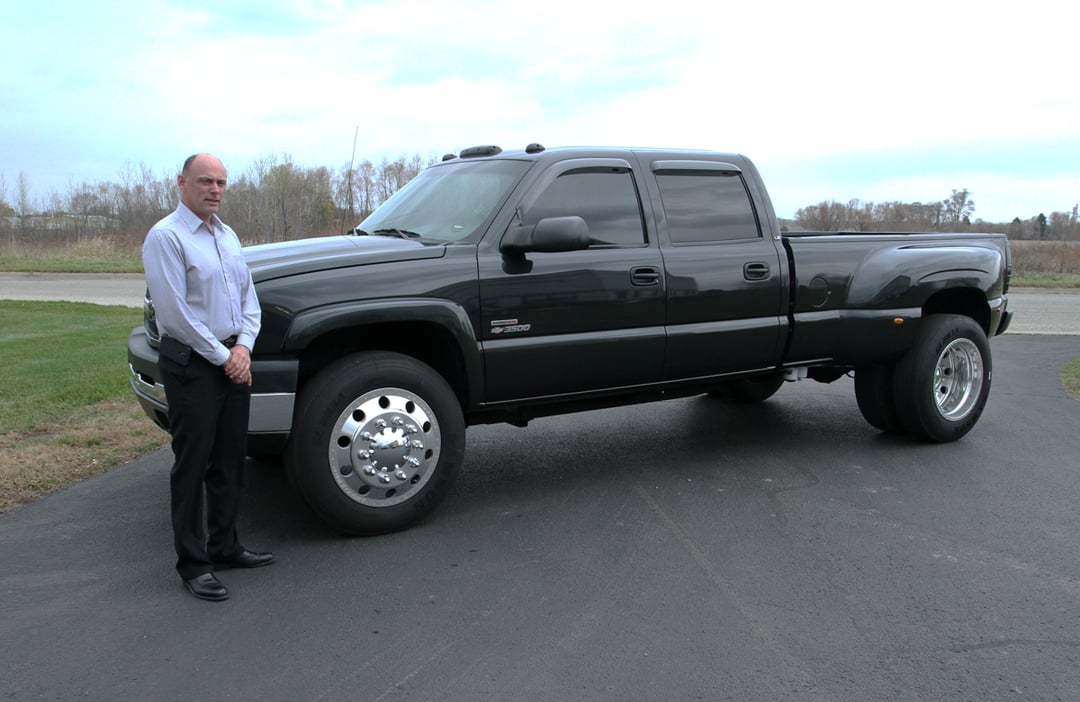 ---
Out of all the trucks that I have had a chance to work with here at DuramaxTuner.com this one really seemed to make me look back and consider how lucky I am to work with such cool trucks and truck owners. If you would like to work together on planning the next step for your truck, please book a meeting with me below.
---