Tractor Tuning Can Add Value to the Farm!
Many farmers have discussed or utilized tractor tuning at some point. With the electronically controlled engines equipped in today's agricultural equipment, electronic tuning can offer a quick solution to operational bottlenecks caused by underpowered equipment. We're here to give you straight answers on tractor tuning, specifically as we supply it at Calibrated Power Solutions Inc.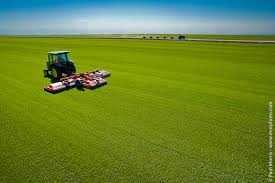 At Calibrated Power we have experience in this exact field. We routinely help farmers with questions about tractor tuning and routinely solicit feedback from our customers to help improve the experience for future users. Our experience in custom diesel tuning, dyno operation and in-the-field testing have provided us with a unique view on the subject. We've learned that there are a few questions that just about every farmer has when talking about adding power to his tractor through custom engine tuning.
1: Is tractor tuning SAFE for my tractor?
The most commonly asked question, and for good reason. Nobody is happy when a tractor is down. The Power Manager by Calibrated Power is tested and proven to work. Reliability is our top priority, for that reason we ofter push back on customers who want more power than the physical powertrain is cabable of using. Our calibrations are designed to keep the powertrain within an acceptable tolerance of what the equipment can handle. In many cases the OEM's provide component limitations by publishing what part number axle shafts, transmissions, clutches etc. are used at what power levels throughout the series. Once we've established the factory rated physical limitations of your tractor, our goal is to set clear expectations around ground speed improvement, time savings etc. that you can expect while operating within that reliable window.
2: How does Custom Tractor Tuning work?
With the Power Manager it is easy. We ship out a hand held device that plugs into the tractor (round 9 pin diagnostic connector, generally in the cab). There are a few easy to follow on screen instructions that walk you through reading the stock file. Once read, just plug the device into a PC computer and use the software provided to email the stock file to Calibrated Power. If you are not good with computers, don't worry. We can walk you through everything over the phone. The custom tractor tunes take a business day to turnaround. For many tractors we build 2 or 3 different power levels so you can determine the best fit for your operation. Loading the custom tunes back on the device and flashing the tractor are very simple as well. Simply drag and drop the tune files from your email onto the device, then plug back into the tractor to install. The tractor remains operational after the reading process and able to be returned to factory-stock at anytime after tuning with a simple reflash (takes minutes).
3: Will I save fuel with tuning?
It depends on the situation. The best improvements in fuel use are seen on tractors that use the extra power to "Shift Up, Throttle Back" or simply run higher ground speed. Here is an example; you establish a ground speed of 8 MPH while doing tillage. We add 50 horsepower so you can shift up a gear or two, then throttle back to maintain the 8 MPH. The tractor goes from running 10th gear at 2150 RPM to runng 12th gear at 1800 RPM. The lower engine speed results in less fuel per hour similar to using overdrive gear in your truck. Situations that allow for a higher ground speed save money by cutting your the hours your team spends in the field. Go from running 5.5 mph to running 7 mph (where applicable) and save 2 hours a day. It's not hard to see how this benefits the operation If you would like to read more about the proven concept of "Shift Up, Throttle Back" click the button below with more information.
4: Can I delete the Emissions Equipment (DPF, DEF, EGR)?
The EPA restricts this is and simply is not available. We have worked with a countless farmers that have emissions equipped tractors running tuned for many seasons without issue. We understand that there are some instances of failure of the equipment but we have found that good operational knowledge of how the equipment works is generally the best way to avoid legal liability and maintain a strong fleet. Stay clear of extended periods of idle. The soot in the DPF cannot be burnt off while stationary in many tractors so it really helps if you can get out and run the tractor at speed. Regular maintenance is key. This includes air filters and fuel filters on a very tight schedule. Tractors run with dirty filters or left in the field while diagnostic codes are set are most prone to suffer and cost you money.
5: How much horsepower can tuning add?
Generally if you know the peak horsepower available in the series your driveline was also installed in, the top tractor in the series represents a long-term safe cieling. Obviously it is custom tuning, so ultimately we control the limit. In situations where max power use is intermittent or where the operator has made physical modifications to the cooling system and air-handling system (turbo) we will supply power levels over the top of the series. All custom tuning inquiries are consulted one on one with our knowledgable staff to clearly outline expectations and liabilities. We would be happy to have one of our experienced staff get you a quote and detail the case for your specific model and application.
If we can help answer any questions you have about tractor tuning,
We would be happy to discuss them with you!
815-568-7920