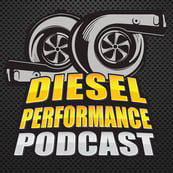 The Diesel Performance Podcast sponsored by Calibrated Power Solutions has been a hit! We currently have over 70 episodes and counting. Our $15k Budget Build was such a hit, we wanted to do a $30k and possibly frame out a higher priced build show in the future. Thank you for listening!
On this particular episode we had Paul Wilson as our Host, Nick Priengnitz pricing out a Duramax, Tim Slater of Centurion Fleet Services Inc representing a Ford and myself (Danny Voss) showcasing a Cummins.
At the end of the day, all three of us maxed out the bottom ends of our motors.
1.) Nick speced out an LBZ and it took him to 750rwhp with a 10mm cp3, 60% over injectors a Stealth 67.7 with a built trans. This put him at a reliable horsepower number that will last for 2 seasons in the competition world typically.
2.) Tim Slater is a Ford specialist and brought a lot of great content to the table on his 2003 6.0 Powerstroke he picked for the segment. He started with a transmission build which we all did to harness the power of maxing out the stock bottom ends of these motors. Tim spent $7950 bucks on just the transmission alone and the build takes off from there.
3.) I had the pleasure of putting together an 06 Cummins. The truck was priced out to make 948 rwhp and to be under $30,000.
Any show idea's or comments for the hosts, please email or call:
Paul@duramaxtuner.com (815)568-7920 x2122
Danny@duramaxtuner.com (815)568-7920 x 2124
When you click on this link, all we will do is ask your Name and email address and we will send you the DOWNLOADABLE LINK