Essential 2004.5 and 2005 Duramax Upgrades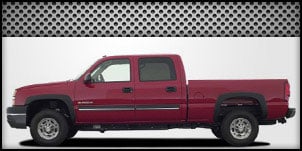 LLY is the code used for Duramax motors used in 2004.5 and 2005 HD trucks. Although they introduced improvements from the 2001-2004 on the LB7 motor, there are a few essential upgrades every owner should consider. (That is assuming an LLY owner would want more power, lower EGT's and better efficiency.)
Before diving into the pitfalls of an LLY, here are a few of the improvements brought to market when they were released.
Injectors outside of the heads provided much easier replacement
Improved injector design much more reliable than its predecessor
Variable Vane Turbo technology provides better spool up and wider power band
Largest frame turbo of any Duramax motor to date
After years of testing this motor and countless upgrades, there are at least 5 essential upgrades every LLY could use.
---
5 ESSENTIAL UPGRADES FOR LLY TRUCKS

Although this list covers the absolute essential upgrades, there are many others out there. If you would like advice about your specific truck feel free to book a phone call with me through the link below.
1. CUSTOM TUNING
Obviously the SPADE Jack by DuramaxTuner.com is the preferred custom tuning for a stock transmission LLY powered truck. There are other custom tuning options out there. Do your own research to see which one is the best match for you. The main take away here is that custom tuning should help your truck in just about every way. Lower EGT's while towing, better MPG, and of course, MORE POWER! A good custom tuner should help increase power while maintaining reliability.
2. INTAKE AIR HORN / INTAKE
The intake air horn connects the front mouth of the turbo to the air intake. From the factory, this piece was designed poorly. It creates a low pressure bubble in front of the turbo which as been attributed to higher EGT's, poor MPG, slower spool up, and less peak power. Considering this as a very simple part to swap out for an upgraded version from S&B. It should make the top of your "Must Do" list. While you are there, many LLY owners also throw an aftermarket intake under the hood. While the upgraded intake is not essential at stock transmission power levels, it does generally help with ease of maintenance if nothing else.

3. FUEL PRESSURE RELIEF VALVE
P0087 is the DTC code for Low Fuel Rail Pressure. It is often a problem for trucks with the stock Fuel Pressure Relief Valve (FPRV) which is a spring loaded plug on the back of the common rail. The design is apparently to protect the rail in case of high rail pressure surges. However, after years of pressure being forced against the spring and valve assembly, eventually the valve starts to open at inopportune times. Most commonly WOT passes or under large work loads like running up an incline with a good size trailer attached. This is why a shim kit or race plug should be considered. Thousands of trucks have blocked this Fuel Pressure Relief Valve without ever causing damage or other issues.
4. LIFT PUMP
Lift pumps provide several benefits for any diesel. Most manufactures report better filtration, less stress on the high pressure fuel pump (Cp3), increased lubricity, torque and so much more. In all practical analysis, a lift pump with an air water separator, good fuel filter and trust worthy pump should result in some basic benefits. The first of which is improved reliability. This comes from the increased amount of filtration a lift pump provides and the act of separating air and water from the fuel prior to being pushed through a high pressure fuel pump or into injectors. On built transmission trucks a lift pump will generally be required by custom tuners for achieving peak power. All in all, the lift pump is a solid modification for just about any LLY owner.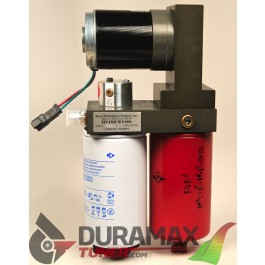 5. GAUGES
Diesel pickup trucks are not cheap. Overheating, dropping rail pressure, and other gremlins can occur. Why not spend a few bucks on a good set of gauges that can help you prevent catastrophic failure and help diagnose many potential issues. The best bang for your buck on gauges will most commonly come from a digital gauge cluster. The Edge Insight CTS2 is a very popular option as it provides up to 8 PIDS to be displayed at a time on a touch screen monitor. Whichever way you decide to go, make sure you can see the important information. Such as EGT (measured at the exhaust manifold), Desired and Actual Rail Pressure, and Actual Boost or MAP.

If you have a bone stock truck and would like to get the most out of it while keeping it as reliable as possible, this list will get you on the right path. Everything here can be used as a foundation for your future build. DuramaxTuner.com has put together the DT400 Power Package with this concept in mind.

---