A new era in transmission upgrade for the common driver!
The new DT550 is the newest addition in a line of proven power and reliability with built transmissions. The product is built right inside the walls of Duramaxtuner's facility. This means you know what you're getting when your new transmission is delivered to your door.
The DT550 built transmission was created for 2001-2016 Duramax trucks. It truly is perfect for the truck owner that tows larger loads or someone that is looking to build their Allison so it's a much more reliable than stock ride. Your transmission can always use more, especially when you're pulling a lot of weight behind you on a constant basis or even if you're just towing some during the Summer months. It's meant to get your Allison to a new level.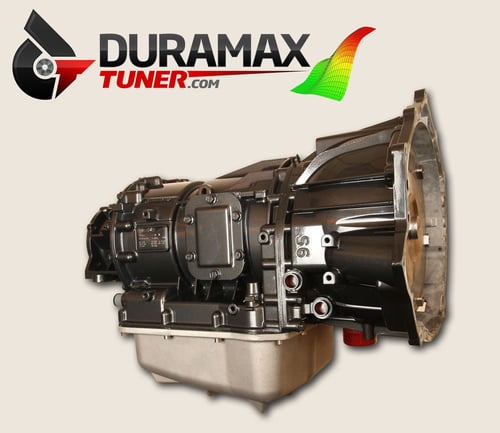 With Duramaxtuner's industry-leading standards, you know you're getting a product that has power and reliability. This transmission is meant for us daily drivers. The gears will no longer bang nor will your shifts be harsh. The DT550 keeps your ride smooth and allows for easy converter lock-up. It truly brings the best of all worlds for the everyday Duramax driver.
One of the nicest features is that this transmission comes to you pre-built. You get the DT550 sent directly to you and all you have to do is the install or take it to a local diesel shop for installation. Installation time is approximately around 7 hours. Once you have your new transmission installed, you send your old core back and once received and inspected, your core charge is refunded. It's quick, painless, easy, and affordable.
What exactly is done to this DT550 Allison Transmission you're probably wondering, well let's delve into exactly what your new Allison comes with:
Goerend Single Disc, Billet Torque Converter

C5 Reybestos Clutches

C1-C4 Reybestos GPZ

Clutches

Upgraded Valve Body

New Neutral Safety Switch
There you have it, the new DT550 Transmission. It's designed for the everyday driver or the Duramax owner that tows heavy and needs to push their stock Allison to a whole new level. It's a great addition to the established and successful line of Duramaxtuner built transmissions.
If you have any other questions regarding what the DT550 can do for you click the button above, fill out the form, and one of our diesel performance experts will assist with anything you may need.