DT LML Twin Kit: Peak Performance And Driveability
Introducing the DT LML Twin Kit for 2015-2016 Duramax trucks from Duramaxtuner.com! This kit was designed in-house with Wehrli Custom Fab to give you a product that pushes the limits of power and keeps your EGTs cool. Let's go over some of the features this product has to offer your 2015-2016 LML.
Let's just get this out of the way immediately, what does everyone want to know most? How much HORSEPOWER can this kit deliver?? You're looking at 650 RWHP peak power potential with stock injectors. Other supporting mods include; upgraded torque converter, 10 BAR MAP sensor, 10mm CP4 high pressure pump, and 2700 BAR fuel pressure sensor. Now if this seems like too much for you to upgrade, no worries. That's one of the great things about a twin kit, it allows the truck owner to grow into the setup. Essentially adding more upgrades as they go. Even if you're not looking to upgrade outside of a twin kit, you can operate this compound system at 520 RWHP with tuning and see the truck still perform amazingly. Regen intervals will happen less frequently, due to less soot accumulation and you'll see enough air to keep the engine cool and reliable.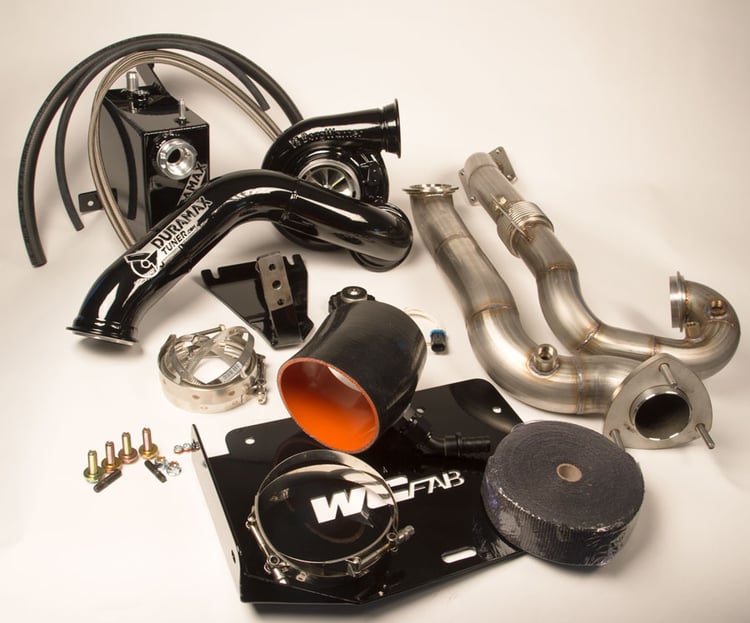 Another great feature of this twin kit is how much reliability it adds to your engine. We all know how much these newer Duramax trucks cost, it just makes sense to protect your investment. The best way of doing so is keeping that motor nice and cool. Towing heavy loads will cause your EGTS to rise, especially when hauling up long grades. This system affords the the ability to help alleviate that issue. Lower EGTs mean its less likely to have major engine failure prematurely. Keeping your truck on the road long as possible is the name of the game and this kit will help do that.
Our team at Duramaxtuner.com have put tons of time and miles into designing and testing this kit. It has the best aspects every driver looks for. It's great for towing, fun to drive, and delivers the utmost reliability. The twin kit harbors a vast amount of torque without extra sound or extra smoke. You'll find all the best features with the ability to grow into this turbo by adding upgrades later on your 2015-2016 LMLs modification list.
650 RWHP peak power capability
Designed to work with factory exhaust
Smoke-less and no added noise
Top notch spool-up and torque curve
Longer than factory regen intervals
Now that you've seen what this kit has packing, click the link above and one of our highly trained diesel performance experts will be happy to answer and question you may have regarding the 2015-2016 LML Twin Kit.