We know you 2017 - 2020 L5P owners have been beckoning for an actual turbo upgrade, well we have one for you today!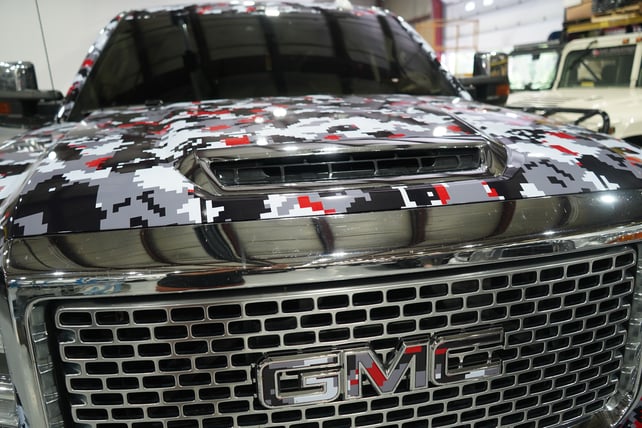 While the charger is still in development, we know that giving an update is a must. The L5P turbo is largely different than the Garrett turbochargers it replaces because it's a Borg Warner charger that uses a different vane cage/nozzle ring assembly, the back half of the turbocharger is different. That means that the parts we've designed which makes the Stealth Series so popular and so successful in the VVT charger Arena, doesn't fit in the l5p. We have to redesign them. Let's show you exactly where we are at currently on this new turbo.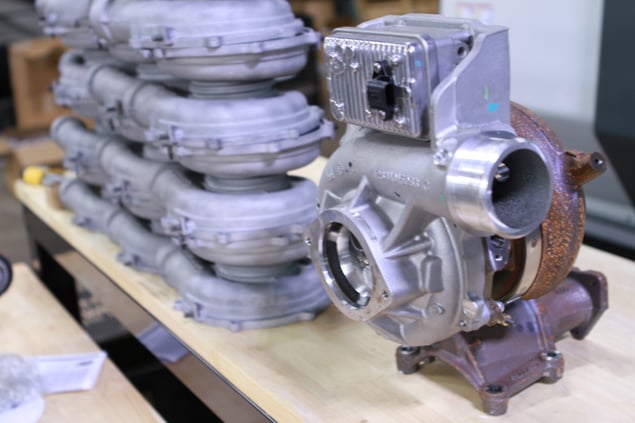 Most people know with turbocharger compressor wheels you want to go faster, you want to make more power, you take the turbocharger compressor wheel you make it bigger. That moves more air. While that works great in theory, so long as you have the engine behind a turbocharger doing it's job. That engine is the turbine.

The turbine takes gas from the combustion chamber runs it through the exhaust, through the nozzle ring or vein cage. The stock vane cage on the L5P turbo is 9 and 1/4 millimeter. Our readers with 5 inch exhaust tips take note, 9 and 1/4 millimeter all the exhaust gas goes through and hits the turbine wheel. Now you're limited in power by how much exhaust gas can get through and effect that turbine wheel, how much horsepower you can drive that turbine wheel, both by the size of the turbine wheel and the width and design of the vane cage and nozzle ring assembly.
This poses a problem for the aftermarket. There is no performance versions of the nozzle ring/vane cage. Meaning if you're going to put a new turbine in, you are limited by how much you can fit in the factory nozzle ring and vane cage. People have been putting bigger turbines in, slightly bigger, but bigger nonetheless. When Duramaxtuner comes to market, they want to make sure you bring a balanced combo. That balanced combo is bigger compressor wheel size matched appropriately to the horsepower level we're going to support and bigger turbine and bigger nozzles ring.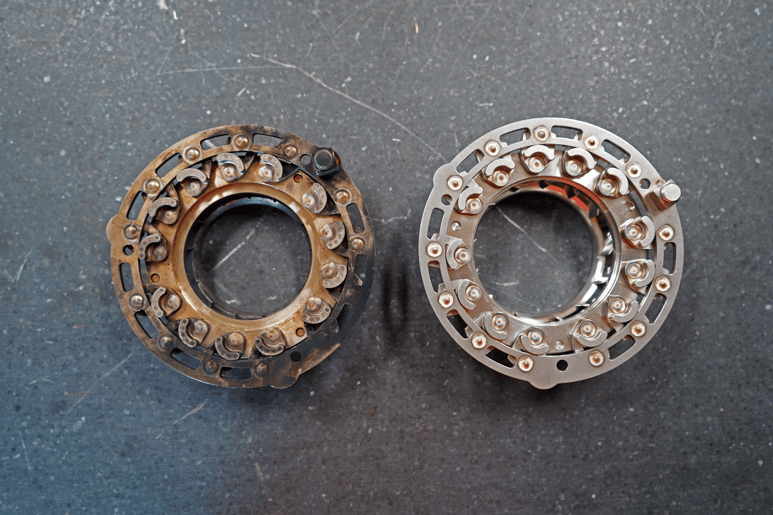 So where exactly is Duramaxtuner at in the process, well let's take a look. The designed Duramaxtuner nozzle ring is BIGGER. How much bigger? Well, we all want to make power. As you can see in the pictures above and below, it's significantly larger than the stock nozzle ring/vane cage. That bigger ring takes time to develop, it takes time to validate. Once we get that done, our goal is to give you a balanced piece. Something that has good drive pressure to boost ratios, something that's going to have good long-term reliability and really move the air to take advantage of that big L5P fuel system.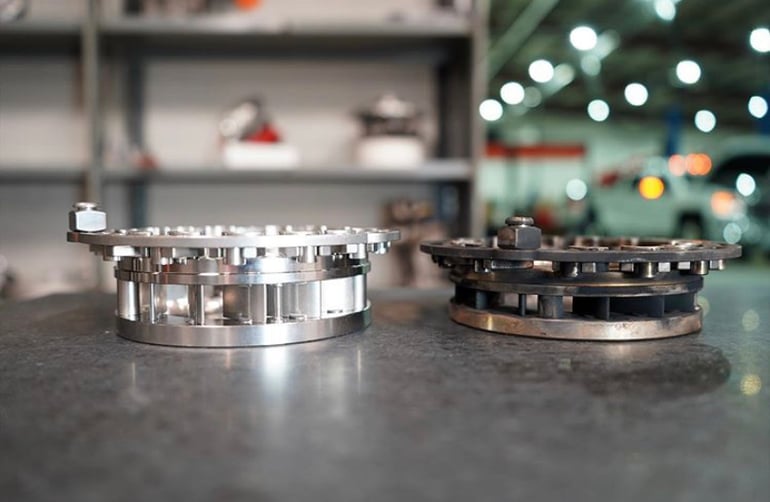 If you're looking to upgrade your charger when available, click the link below to be placed on an L5P Stealth Turbo waitlist. Be sure to check back for further updates as they become available.